Earlier this month I had the privilege of spending a weekend at Walker Creek Ranch. On Sunday morning I was walking with my cup of tea toward the next activity and caught sight of a mule deer standing in the tall grass on a hill behind one of the buildings. The deer heard me before I saw her, and she startled but did not run. Several moments passed as we regarded each other. While deer are likely used to human activity on the ranch, she still had to assess whether or not I was a threat. I don't know how to make a steaming mug of tea look small and non-threatening while still sipping on it, but I did my best.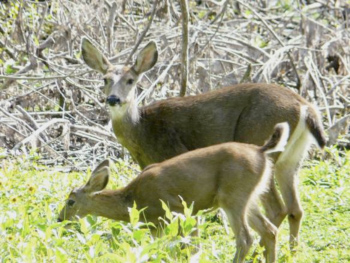 After a few minutes she bent her head and continued eating. It was a peaceful scene. Golden rolling hills, the rising sun glistening off the dew of the grass and trees, mist rising off the ground, and a single deer munching quietly on a hillside. It was also a rare scene. In our busyness and preoccupation we humans rarely have the time or the awareness to notice or enjoy such things.
After a moment, I saw a second deer stand that had been there all along, sitting hidden in the tall grass. By this time I had beckoned over other passers-by to see the deer, and a small group of us stood watching them. Finally, a third came bounding through the grass to join the other two, jumping and trying to play. This seemed to break their thrall, and they all ran together through the camp, disappearing into the trees on the other side. If I had followed my initial feelings—my desire to get closer and pet the deer—I would have scared her away and missed seeing the other two. Also, the moment would not have lasted long enough for other people to enjoy. Worse still, I probably would have spilled my tea.
The theme of the weekend was Love, and I thought of how during wedding homilies I remind the couple that in the Bible, Love is a verb, an action. It is how we behave toward one another, regardless of what emotions may come, and goes as quickly as flighty deer. It is a conscious choice to be still, to be non-threatening, to give space, to serve, to listen, to give, regardless of how you may be feeling in the moment.
This past month at FCC San Rafael I have sat in many meetings with different ministry teams and learned about all of the different ways our church serves its community, how many lives it touches.The amount of service that this church does is overwhelming. I have seen how hard people work to gather food for the hungry, to bring school supplies to the impoverished, to care gently for aging parents, to educate the alien and the sojourner, to invest in the highest quality building materials to house the poorest in our community.
At these meetings, I have seen people who were tired, who were ill, who were hungry, who were feeling a little burnt out, who were distracted, who were worried about many people and things in their lives. Their emotions were all over the map, but their actions were still loving toward each other and toward the people they served, even those whom they had never met. When I ask them to tell me about the work that they do, I see the joy that their work brings them and loving feelings fill them up and outweigh the fatigue and the distractions. That reflection is a moment of tranquili- ty that fills us up with love so that we can pour it out again through our actions.
One of the activities that we did at the retreat was to finish the sentence "Love is…" and write down examples we have seen to be pinned on a blanket. This blanket will be hung in the church over the next several weeks, and I would encourage you to come see it and add your own reflections. As I think of all of the examples of love that I saw that weekend and over the past month at FCC San Rafael, I am reminded of the story of Jesus and Caesar's Coin that we studied on Sunday, September 21. We are created in God's image, and God's image is one of compassion and justice, peace and hope, liberation and love. We are vessels for all of these things. When we pour these out to other people and to our world, God fills us up with more. When we act in love, we are reflecting the image of God. When we pause to reflect on what we do and the people we share it with, we can experience moments of sublime tranquility and restoration.
As we move through the next several weeks, we will be taking time to honor and bless many people in our communities. We will be celebrating World Communion Sunday and taking the Neighbors in Need offering reflecting on the many ways that our church and the United Church of Christ acts in loving ways throughout our nation and world. We will be celebrating the furry and scaly, feathered and slimy friends and all the love that they bring into our lives and as we honor St. Francis of Assisi Sunday and bless the animals. We will be observing the Children's Sabbath and encouraging all youth to help lead worship. We will be celebrating All Saint's Sunday and remembering all of the friends and family that have passed before us and the love they brought into our lives. We will be blessing and honoring veterans. As I look ahead to the upcoming weeks, I see how much love there is in our church and our world.
As we move through the next month together, I invite you to take time to reflect on the loving actions that are poured out on you, and on how much you do to love others. Share these reflections with someone close, share them with me, or share them on the "Love is…" blanket at church. Let me know what happens when you do. I'll look forward to hearing from you.
Blessings,
Pastor Tracy