This past weekend I had the pleasure of attending a performance of Puppet Up! with a close friend of mine of twenty-five years. It was an unscripted improvisational puppet show consisting of Brian Henson and six other nationally-acclaimed puppeteers, voice artists and musicians.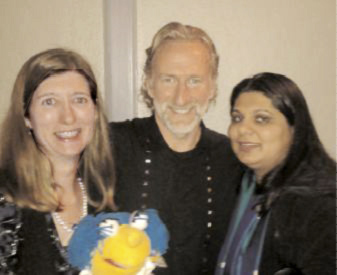 At one point during the show the MC came into the audience looking for volunteers, and I motioned wildly toward my friend sitting next to me. The MC came over, but then asked me to join Mr. Henson on stage. I was nervous, wildly excited, very starstruck, and terribly confused. Why had I been chosen when I was desperately trying to volunteer someone else?
The improv routine was thrilling and fun, and every single second brought something new and unexpected. With a beak-nosed puppet on one arm held high over my head, two hand-control sticks in my left hand, and wireless mic wrapped around my ear, I was suddenly a scuba instructor that had to run around the stage and save Mr. Henson's character (a whimsical crab) from drowning. Talk about sink or swim!
One thing that absolutely transformed my experience was what the MC told me right before I went on. Just as I was coming out of the darkness into the blinding lights of the stage, he pulled me aside and whispered into my ear: "Just pay attention, have fun, and they will take care of you." What apt words for life and especially for the Advent season: Stay present. Be filled with joy. Trust that all will be well.
As we enter Advent, we will hear the story of Christ's birth told through many people: shepherds, angels, magi, kings, prophets, innkeepers, pregnant women, a newly betrothed man, and people in the neighborhood. If they had had any idea what was about to happen, they might have motioned wildly to the person sitting next to them.
And yet they were chosen. They were asked to jump into a situation that was quite unexpected, where something new happened almost every second. They were likely nervous, a little starstruck, terribly confused, and wildly excited. Yet all they had to do was pay attention, allow themselves to be filled with joy, and trust that God would take care of the rest.
Advent is the season of anticipation, of holding our breath. We are invited to stay present and enjoy every second as we tell the story and wait with wild excitement for Christ's birth. We are invited to trust God, and trust that Jesus will be born and Christmas will happen no matter what twists and turns happen along the way.
As we move through the next several weeks together amid the hustle and bustle of the Christmas season, I invite you to heed the message that was whispered to me in the darkness just before I was dazzled by light and joy: Pay attention. Have fun. Trust in God that all will be well. This is anticipation. This is Advent.
Blessings,
Pastor Tracy