At the 7:00 o'clock service on Christmas Eve, worship took an unexpected turn when the children discovered that the Advent candles were missing and had to follow a series of clues to find them hidden around the sanctuary.
I had tried to protect the candles by encasing them in cardboard wrapping paper tubes and then decorating them with red paper like firecrackers. I thought myself quite clever.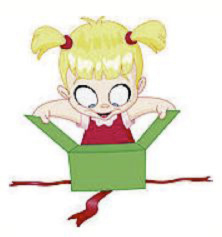 When the first one was discovered, one of the children began to unwrap it in front of the congregation. I tried to build the excitement by asking, "What's in there?!  What do you see?! What could it be?" The eager little tyke tore off the paper and with a gasp of amazement and wonder shouted, "It's a toilet paper roll!"
While I struggled to reassure everyone that it was not, the congregation laughed itself silly.
Jesus said, "Truly I tell you, unless you change and become like children, you will never enter the kingdom of heaven." (Matthew 18:3) Indeed on Christmas Eve a child revealed the truth: despite all the build-up, what was revealed was in fact quite ordinary. And yet the child was still delighted. There was still laughter for everyone. The ordinary became memorable because it was unexpected.
As we approach Epiphany, I invite you to remember the kings. With all of their expectations of pomp and circumstance, they came to find something unexpectedly ordinary: a tired mother and father, a stable full of animals, and a baby wrapped in swaddling clothes laying in a feeding trough. This is the antithesis of an extravagant spectacle. And yet because they had come with a child-like spirit, the unexpected filled them with awe.
Blessings,
Pastor Tracy