Years ago I served as Youth Minister at a Korean Presbyterian Church. One of their traditions was to have an annual contest wherein the youth were challenged to memorize an entire chapter from the Bible with cash prizes for the best recitations. It was the Youth Minister's job to choose the passage. Even though I had serious reservations about this contest tradition, and few of the youth were interested, I went for my favorite passage: Acts 2, the story of Pentecost and the First Christian Community.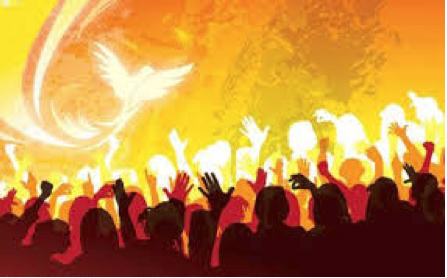 On May 24 we celebrated Pentecost, and every week during the time of Centering Silence we invite the Holy Spirit. The rush or spirit, breath, wind. This Spirit that moved over the waters in the Creation Story of Genesis and called life into being. This Spirit that descended like a dove when Jesus was baptized. This Spirit that on Pentecost compelled the disciples out of their safety zone to share their wit- ness with all who would listen. It was this same Spirit that let everyone present hear the stories in their own mother tongue. What is amazing about Pentecost is what happened afterward. The book of Acts paints a picture of a first Christian Community made up of an incredibly diverse set of 3000 people.
As I watch how FCC San Rafael is changing, I have to admit it sometimes feels a little chaotic. With new people coming in, long-term members embracing new roles, our ongoing conversation about Race Relations, our involvement with the Marin Interfaith Council, and the growing momentum of Sunday School, the Homework Club, Bible Study and the REST Program, I feel sometimes a little like the disciples in the midst of a whirlwind, compelled to leave their comfort zone and engage in a much larger conversation. It must have been frightening and exciting at the same time. It rendered them deeply vulnerable and yet incredibly authentic. It broke the ties that were keeping them in a closed circle and freed them to build many new connections.
On the day of the contest I found myself nervous and negative. I didn't like this contest and had lots of good reasons why. Several last-minute issues — including that none of the kids wanted to participate— had threatened to derail the event at the last minute, and I was in a foul mood.
But then an eleven year-old Korean-American girl stood up. With a quiet but clear voice she began to speak the second chapter of Acts perfectly from memory, telling the story of how the disciples were compelled to go out with the people and listing all of their myriad nationalities.
She spoke Peter's first sermon, telling about Joel's prophecy of the day when the Spirit would be poured out on all people, men and women, young and old. She spoke Peter's words telling who Jesus was, and King David's message of hope in the Messiah during the darkest of times. She spoke about repenting of unhealthy ways and receiving the Holy Spirit, that the promise is there for all people and their children and descendants. Finally, she spoke of the first Christian community, where everyone had enough. Where everyone shared. Where everyone got along. Where everyone ate meals together with glad and joyful hearts. Where this Church had the goodwill of all the people and welcomed newcomers day by day.
Out of the whirlwind came the clear voice of a child with a powerful message of peace, hope, and love, and we were all transformed. Tears flowed.
Out of the chaos doesn't always come order, but with the Spirit's help come relationship, equilibrium, and peace. As we enter the season of Pentecost, in the midst of all of this activity and conversation, I see community coming together in strange and wonderful ways. Bridges, relationships, and ties are being built between Pilgrim Park, a local high school, a church, and the surrounding community. People of all different faith traditions, nationalities, and cultures are coming together to solve a common problem and relationships are being formed. We are learning to hear each other in our own mother tongue.
I ask that you pray with me as we go forward together that we might stay open to the Spirit and to each other.
Blessings,
Pastor Tracy