When:
April 21, 2017 @ 7:00 pm
2017-04-21T19:00:00-07:00
2017-04-21T19:15:00-07:00
Where:
DeHaan Center - PilgrimPark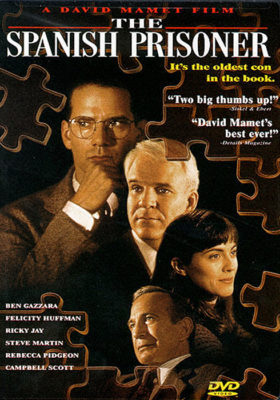 Our April movie is about an elaborate con game, a subject that Pulitzer Price-winning playwright and filmmaker David Mamet has returned to again and again over his career. He once said "All drama is about lies – about something that is hidden . . . The better the play, the more surprising and inevitable the lie is."
Mamet's "The Spanish Prisoner" is about a innocent young man who has invented a formula of potentially great value. He is working with a group of investors who are supposedly helping him to bring it to market, but from the very start, we have the uneasy sense that nobody is quite who they seem
"The Spanish Prisoner" features a tightly knit ensemble cast, including Campbell Scott, Steve Martin, Ben Gazzara and Rebecca Pidgeon. Again and again, they win our confidence, only to shock us with their true motives . . . . or maybe what is only just another layer in their con. Join us for some entertaining confusion.
"The splendid inspiration of Alfred Hitchcock is much in evidence, with Campbell Scott as a latter-day James Stewart, coping with the most extraordinary circumstances and later reeling from surprise after surprise. . .This is [Mamet's] sleekest and most engaging film thus far."
Janet Maslin, New York Times.