When:
July 28, 2017 @ 7:00 pm
2017-07-28T19:00:00-07:00
2017-07-28T19:15:00-07:00
Where:
DeHaan Center Pilgrim Park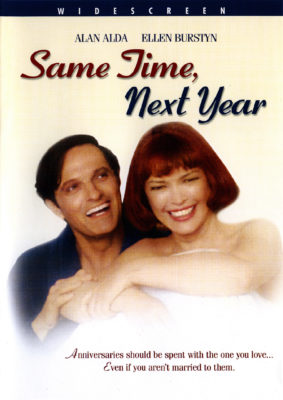 Our midsummer movie is an old favorite from almost 40 years ago: a romantic comedy that mixes laughs with serious insights about the nature of love and commitment.
In 1951, at an inn on the Mendocino coast, Doris (Ellen Burstyn), a 24-year-old housewife from Oakland, meets George (Alan Alda) a 27-year-old accountant from New Jersey, at dinner. The attraction is immediate, and they wake up in bed together the next morning. Neither has ever done this before, and both are happily married, with children. Still, they agree to meet for a single weekend each year as long as the attraction lasts.
We check in with them every five years as they reflect the silly fads and serious issues of those turbulent times, and, as they grow and evolve as people. Late in the film, as George and Doris deal with middle age and spouses' illnesses, They confront the line between zipless fantasy and real-world commitment and (in their own special way) respect it.
Their time together each year may be short, but it is intensely intimate. They share a birth, a death, a hippie phase, a difference in politics and even act as marriage counsellor for each other. . . . Overall, we are entranced by the connection between the two characters and the resolution (after 26 years of meetings) is exactly what we would want. It's funny, sad, unexpected and moving. Just like life and its relationships."    Louise Keller, Urban Cinefile