When:
March 2, 2018 @ 7:00 pm
2018-03-02T19:00:00-08:00
2018-03-02T19:15:00-08:00
Where:
DeHaan Center, Pilgrim Park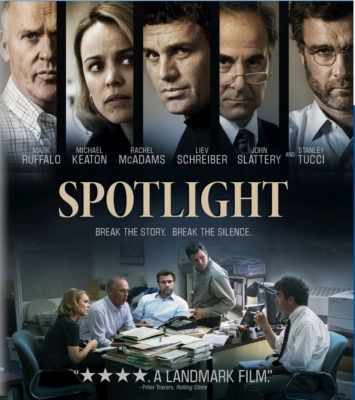 (Note: This is the slightly-delayed "February" Movie Night. Our regular March movie night will be Friday March 30.) The newsrooms big city newspapers have always provided a stage for great drama, and perhaps the endangered status of newspapers in the age of the internet explains the upsurge of terrific newspaper movies in recent years.
Arguably the best of the recent newsroom dramas is "Spotlight" which won the Best Picture and Best Original Screenplay Oscars for 2015. (It was also recently in the news again, when one of its central characters, Cardinal Bernard Law, disgraced ex-Archbishop of Boston, died in Rome in December.)
"Spotlight" tells the story of an investigative unit at The Boston Globe that set out to report on what they thought was a single rogue priest whose history of child abuse was being covered-up by the church. They persisted in their investigation despite efforts by most of Boston's establishment to shut them down. By the time they published, a year later, they had lifted the lid on a self-inflicted wound to Catholicism that is still not fully resolved.
Interestingly, "Spotlight" was written and directed by Tom McCarthy, who was previously known for small, thoughtful dramas like "The Station Agent" and "the Visitor" (both of which we've seen on Movie Night) and who is Catholic and a graduate of Boston College.
The movie celebrates a specific professional accomplishment and beautifully captures the ethos of journalism. It is also a defense of professionalism in a culture that increasingly holds it in contempt. Everything in this movie works, which is only fitting, since its vision of heroism involves showing up in the morning and — whether inspired by bosses or in spite of them — doing the job." A.O. Scott, The New York Times