When:
January 26, 2018 @ 7:00 pm
2018-01-26T19:00:00-08:00
2018-01-26T19:15:00-08:00
Where:
DeHaan Center at Pilgrim Park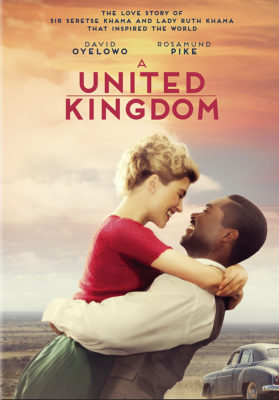 Our January movie tells the true story of Seretse Khama, heir to the throne of Bechuanaland (then a British protectorate, now the nation of Botswana.)  In 1947, while he was a graduate student at Oxford, he met and fell in love with Ruth Williams, a white office worker. When he announced their intention to marry, the British Government, afraid that an offended South Africa would cut off their supply of gold and uranium, launched a 20-year campaign of lies and dirty tricks to keep Khama from taking his position as leader of his people.
Much to their surprise, Khama was just as smart and sophisticated as they were in fighting to achieve both his marriage and his birthright. His 20 year campaign to outsmart the British, and his subsequent success in leading his nation through a peaceful transition to democracy and prosperity is an important piece of 20th century history that is virtually unknown in the USA.
"A United Kingdom" stars David Oyelowo (MLK in "Selma") and Rosamond Pike (Oscar-nominated for "Gone Girl".)  It was directed by Amma Asante ("Belle") and is based on the book Colour Bar by Susan Williams.
Oyelowo, in a virtuoso performance, shows us [Khama] the real-life figure – not as a bloodless idea, but as a morally responsible human being, done in a way that seems both timely and timeless. It's a tender love story that never goes soft on its provocations.  It's a defiant cry from the heart."
Peter Travers, Rolling Stone