When:
October 27, 2017 @ 7:00 pm
2017-10-27T19:00:00-07:00
2017-10-27T19:15:00-07:00
Where:
DeHaan Center Pilgrim Park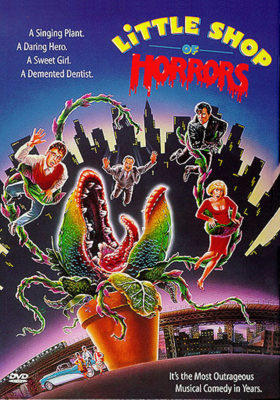 Our next movie is a piece of inspired, scary silliness for the Friday before Halloween. It stars a giant, man-eating plant from outer space.  It's also a touching musical about young love triumphing over a Skid Row setting, a sadistic dentist and a threat to all humanity's existence.  Most important, it's very very funny from beginning to end.
"Little Shop of Horrors" started life in 1960 as a cheesy black & white horror farce that was shot in only two days by the infamous Roger Corman. In 1982, the story was adapted into an off-Broadway musical that ran for five years. That hit was translated into this 1986 film by director Frank Oz. The musical score is by the team of Alan Menkin and Howard Ashman who authored a number of Oscar-winning Disney hits (though these songs are definitely not G-rated a la Disney.)
The film stars Rick Moranis, Ellen Greene, Vincent Gardenia, Bill Murray and Steve Martin. It was nominated for two Academy Awards. Even after 30 years, Martin's scenes as the sadistic dentist of all our nightmares may be the funniest 10 minutes ever filmed.
All of the wonders of "Little Shop of Horrors" are accomplished with an offhand, casual charm. The movie doesn't labor its jokes or insist on its virtuoso special effects, but devotes its energies to seeming unforced and delightful.   This is the kind of movie that cults are made of. I wouldn't be at all surprised to see it develop into a successor to "The Rocky Horror Picture Show," as one of those movies that fans want to include in their lives."     Roger Ebert