First Congregational Church can trace its beginning to some fiercely independent women and the Temperance movement in the late 1800's. In July of 1892, Mrs. Emmaline Haskel and several other members of the First Presbyterian Church of San Rafael petitioned their minister to allow them to celebrate Communion with "unfermented wine." To their dismay, their request wasn't just rejected, it was condemned as an "indictment of our Lord's Last Supper," and the minister "preached mightily" on the error of their ways.
After thoughtful consideration, Mrs. Haskell and the others left in November of that year and started holding Bible Classes in the parlor of "Mrs. McDonald's Temperance Boarding House" at 2nd and B streets. They started to attract additional people, and on Christmas day 1892, they moved their informal services to a larger room at the Women's Christian Temperance Union at 3rd and B streets.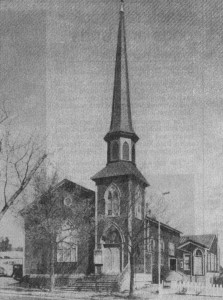 A month later, this little group somehow connected with Rev. William H. Hardy. In Mrs. Haskell's words, "He was searching for his niche as we were." Under his leadership, they quickly formalized their existence as an official church. They celebrated their first Communion ("With pure, unfermented fruit of the vine") on March 5, 1893, and in March of 1894 FCC was legally incorporated as a church under California law.
By 1897 our friends the Presbyterians had outgrown their original building, and decided to build a new one at the corner of 5th and E streets (their location today.) FCC had been growing, too, and in August of 1897 we agreed to buy the Presbyterians' old building for $1,800. (No, there aren't any zeros missing!) This building, on the east side of E street between 3rd and 4th, was FCC's home for the next 64 years. (Sadly, there's just a parking lot there today.)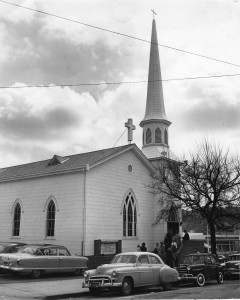 The records of FCC's first 50 years at E Street are spotty. There was high turnover of pastors, with none staying more then 4 years, and there were apparently some periods of serious conflict among the membership. However, in 1947 FCC entered an extended period of growth and success. In that year we called Rev. Paul Peterson as our pastor. He immediately launched a very extensive (and badly needed) renovation of the E Street church. From that point forward, the floodlit white steeple of FCC was a San Rafael landmark. Under Rev Peterson's leadership, the church grew from 53 members in 1947 to almost 300 ten years later. . . . Which led to the biggest change of all.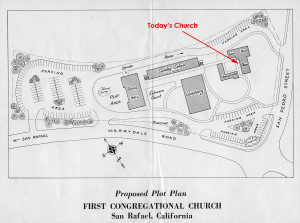 By the mid-50s, the TerraLinda/Santa Venetia/Los Ranchitos area was starting to be developed, and, with typical 1950s optimism, people assumed that this "modern", suburban-style community was the whole future of San Rafael. At the same time, our E Street church was bursting at the seams. So, in 1955, for all of $30,000 FCC bought five acres at the corner of Merrydale and North San Pedro Roads. By 1958 we had developed plans for a truly grand church campus at the new location and launched a building drive. In 1960, we broke ground on the first phase of this plan, the office wing and chapel, and we started holding occasional outdoor services there. On March 11, 1962 the "chapel" (our present sanctuary) was dedicated. We moved the pews, organ, rugs and other furnishings over from the old church and sold the E-street building.
It's not clear whether we still hoped to complete the original building plan at this time, but records of a steady decline in membership through the 60s made it apparent that the big project wasn't going to happen. In 1965, we started discussing other possible uses for our 3+ acres of "surplus" land, and in 1969 the congregation voted to work with HUD financing to build a 61-unit low income housing project on this land. Today, Pilgrim Park stands as a model for successful projects of this type. It was also a touchstone for the church, convincing us that we can and should "dream big" in the realm of benevolence, a tradition that continues today.
Through the 1970s and 80s FCC struggled with declining membership and marginal finances. We sublet parts of the building and reduced the pastor's position to part time. Still, a loyal band of members and Rev. Lou Riley kept FCC going and kept us actively engaged in issues of social justice.
In 1993, FCC entered a new era of growth with the arrival of Rev. David Ray. David helped us believe in ourselves and in the importance and power of "small" churches. We launched a building project that, when we started, seemed impossibly beyond our means. However, five years later we dedicated a sanctuary that had been transformed from a dark, closed-in 1950s style space into a bright, open, inviting one.
Almost before the paint was dry on the renovation, we launched Every Dollar Feeds Kids, a grass-roots program to feed and help educate the poorest of the poor in Mexico. Since its start in 2000, EDFK has grown to raise roughly $50,000 per year locally (with zero administrative expense) and has enlisted several partner churches across the country.
In 2003 Rev. Ray stepped down, and in 2004 we called Rev. Julianne Stokstad. The momentum in membership  continued under Julianne's leadership, with fresh energy and new initiatives in mission activities. Sadly for us, Julianne found herself increasingly drawn to her work with prison inmates, and in late 2008 she resigned to pursue that new calling.
The next five years were unsettled with three different interim pastors and a settled pastor that turned out to be a poor fit. The positive side of this stressful time was that we conducted a long, serious reexamination of who we are as a church, where we want to go over the next decade and the kind of leader we need to get there. In June 2014 we called Rev. Tracy Barnowe as our settled pastor. With Pastor Tracy's arrival, there was a marked upturn in energy and attendance. She focused our energy on several initiatives in the community, the most significant of which was in extensive after-school and summer enrichment program for the kids of Pilgrim Park. (You can see some of the impacts of this program in the Photo Album and Students' Blog pages of the website.)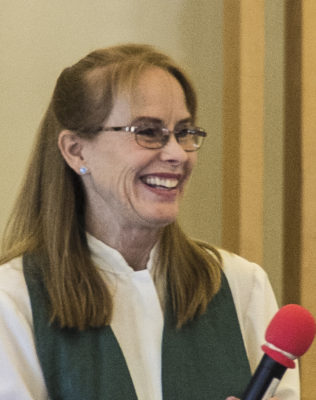 In mid-2017, some very positive developments in Pastor Tracy's personal life, including a move to another city, led her to resign as our pastor, and started us once again on the search process. We soon called Rev. Sally Train as our new Interim Pastor. Attendance has continued strong, and we believe the self-examination and strategic planning we undertook in 2014 will help us keep the search and call process short and focussed.
By the way, we still serve Communion with "the pure, unfermented fruit of the vine," though we've been known to break out the other kind at parties.