Young people are an essential part of the FCC family and are always welcome, whether they are squiggley toddlers or questioning teens.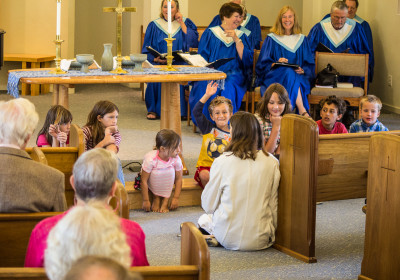 Children and youth join worship with the congregation for the first third of the service and leave after the children's sermon for church school. Pre-schoolers and infants meet with a pre-school teacher and nursary care assistant
Grades 1-8 meet every week in our main Christian Education class.  The curriculum for Sunday school is Seasons of the Spirit, which was developed in collaboration with several denominations. It is organized using the church seasons and the lectionary readings to provide a biblical basis for learning about and experiencing our faith. Classes may include worship, art, stories, drama, crafts, games, media, service, and sometimes just talking.
If you have questions or would like to know more about religious education at FCC, please feel free to contact our pastor, Tracy Barnowe,  or our Sunday School Director, David Knopf.