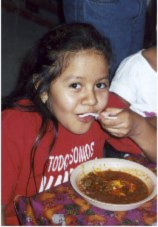 In 1999, we started Every Dollar Feeds KidsTM (EDFK) to provide meals to impoverished children in Cuernavaca, Mexico. Since its founding, EDFK has sent over $200,000 to Mexico and has recruited several partner churches. In fact, the response to EDFK has been so great that we recently incorporated EDFK as a separate 501(c)(3) non-profit to facilitate fund-raising with foundations and corporate matching programs.
Our partner in Mexico is Vamos! a volunteer organization that has grown to manage 81 different programs to feed, educate and empower the poorest of the poor.
Both EDFK and Vamos! operate on the principle embodied in our name: All fund-raising and administrative expenses are paid from the supporting Churches' outreach budgets, so that 100% of every dollar contributed goes to food.
Note: EDFK is temporarily experiencing technical difficulties with their website. Until this is corrected, you can contribute by writing your check to "EDFK" and mailing it to
EDFK/First Congregational Church
8 North San Pedro Road
San Rafael, CA  94903
(EDFK is a separate 501c3 non-profit, and you will receive a tax receipt from them, not the church.)